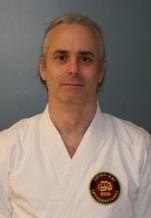 Mike Wilson
B Math

NCCP Level 2 Trained
Roku Dan (6th) - Miyake Karate-Do Shuko-Kai
Ni Dan (2nd) - Iai-Jujitsu

Shihan - Shuko-Kai International
Canada Chief Instructor - Shuko-Kai International
Owner - Conestoga Karate
mike.wilson@shukokai.ca

Mike began Karate training in 1972 in St. Catharines Ont. under a Wado-Kai dojo in Port Dalhousie, St. Catharines run by Sensei Ron Krayewski. Sensei Ron Krayewski was a student of Sensei Masaru Shintani, and was also affiliated with Sensei Ryokichi Katano in Lock Port New York.
Mike attended about 5 classes per week and by the time he was a green belt, he was coming to every class before the students to prepare the dojo for the class. This entailed washing the tile floor and cleaning the mirrors. Karate was his life from an early age.
Mike obtained his brown belt and began a Karate program at a prestigious boarding school in St. Catharines called Ridley College. Mike ran the program for two years until he graduated from high school.
Mike also had the honour of personally meeting Hironori Ōtsuka, the founder of Wado-Ryu, before he died in 1982.
Mike achieved his Sho Dan in Wado-Ryu in 1978 from Sensei Ryokichi Katano in Lockport New York.
After obtaining his Bachelor of Mathematics from the University of Waterloo, Mike moved to Kitchener, and in 1999 started training in Shuko-Kai Shito-Ryu Karate-Do.
Mike taught a couple classes per week at the Shuko-Kai dojo in Waterloo. Mike also ran the Karate program at the YMCA in Kitchener for two years.
Mike obtained his Go Dan in Shuko-Kai in 2012 from Soke Kunio Miyake.
Mike has attended many seminars and instructor training sessions from Soke Miyake at the Shuko-Kai International head quarters in McAllen Texas.
Mike currently holds a Roku Dan (6th degree) in Miyake Karate-Do Shuko-Kai, a Nidan (2nd degree) in Iai Jujitsu, all from Soke Kunio Miyake.
Mike received the title of Shihan in March, 2022.
Mike is currently Canadian Chief Instructor.
---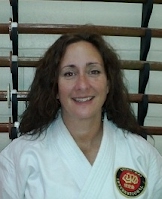 Kathy Wilson
EET CID
NCCP Level 2 Trained
Yon Dan (4th) - Miyake Karate-Do Shuko-Kai
Shidoin - Shuko-Kai International
Owner - Conestoga Karate
kathy.wilson@shukokai.ca
Kathy began her Martial Arts training at 15 years of age. She studied Chito-Ryu in Nova Scotia and progressed up to her green belt before leaving for school in Toronto. After moving to Waterloo, Kathy resumed her training as a white belt in Shito-Ryu, and in 2008 she received her black belt.

Kathy has been very active in the dojo and Community Centers as a Sempai and now teaches at the main dojo.

Kathy currently holds a Yondan (4th degree) black belt in Miyake Karate-Do Shuko-Kai.
---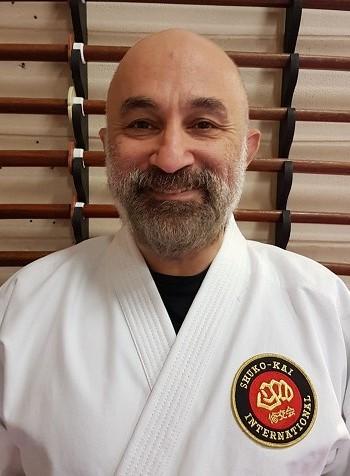 Shahram Teymori
Sho Dan (1st) - Miyake Karate-Do Shuko-Kai

Shahram started martial arts with Kung Fu at age of 12 and practiced for 2 years. During his grad studies he practiced Kendo at the University of Waterloo for 1 year, then he joined Brazilian jujitsu at Waterloo at age of 41. He practiced for two years and received his orange belt. At age of 46 he started training under Sensei Mike Wilson in Shuko-Kai Karate. He received his Shodan-ho in 2018. He currently holds a Shodan in Miyake Karate-Do.

---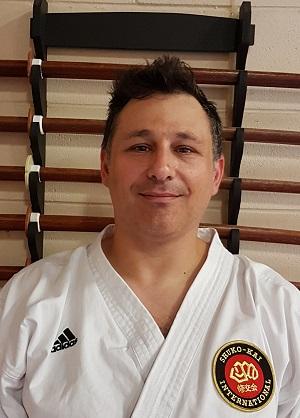 Ryan Milanovic
Sho Dan Ho - Miyake Karate-Do Shuko-Kai

Ryan started Karate in the late 1980s at the age of nine years old at his local YMCA under Sensei Ricardo, attaining a yellow belt in Shotokan Karate. Later on in the mid-2000s, Ryan studied Judo under Sensei Wayne Erdman, attaining a yellow belt. In the early part of this decade, Ryan also studied Aikido under Sibok Gee Wong. Ryan came full circle back to Karate in March of 2015, studying Shito Ryu Shuko Karate under Sensei Mike Wilson and the other Sensei-gata at Conestoga Karate, attaining the rank of Shodan-Ho in September of 2019. Bunkai (practical application of kata sequences) involving throws is of particular interest to Ryan.

---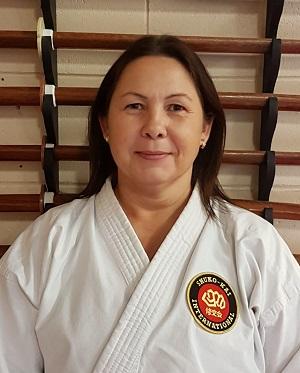 Heidi Erdelyi
Sho Dan Ho - Miyake Karate-Do Shuko-Kai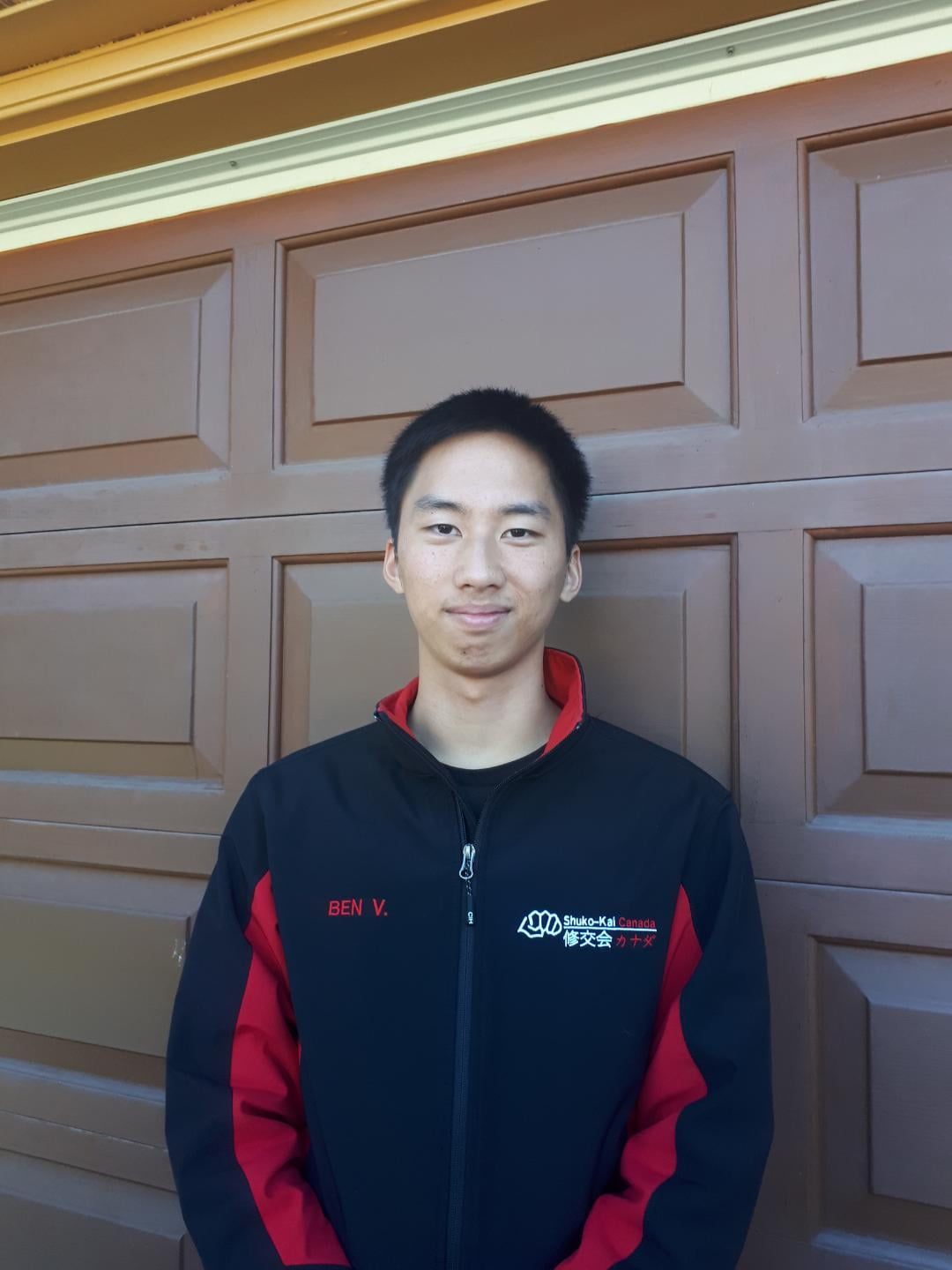 Ben Vang
Ni Dan (2nd) - Miyake Karate-Do Shuko-Kai
Sensei Ben began his karate training in 2014 at Conestoga Karate.
Ben achieved his first black belt level in 2017. He currently holds a 2nd degree black belt since 2022.
He competed in many tournaments, and earned a spot on the Ontario Provincial Team and competed at the National level. He then was invited to become a member of the Canadian Junior Team and competed in many tournaments around the world.
Ben has since retired from competition and is now focusing on education and teaching in the dojo.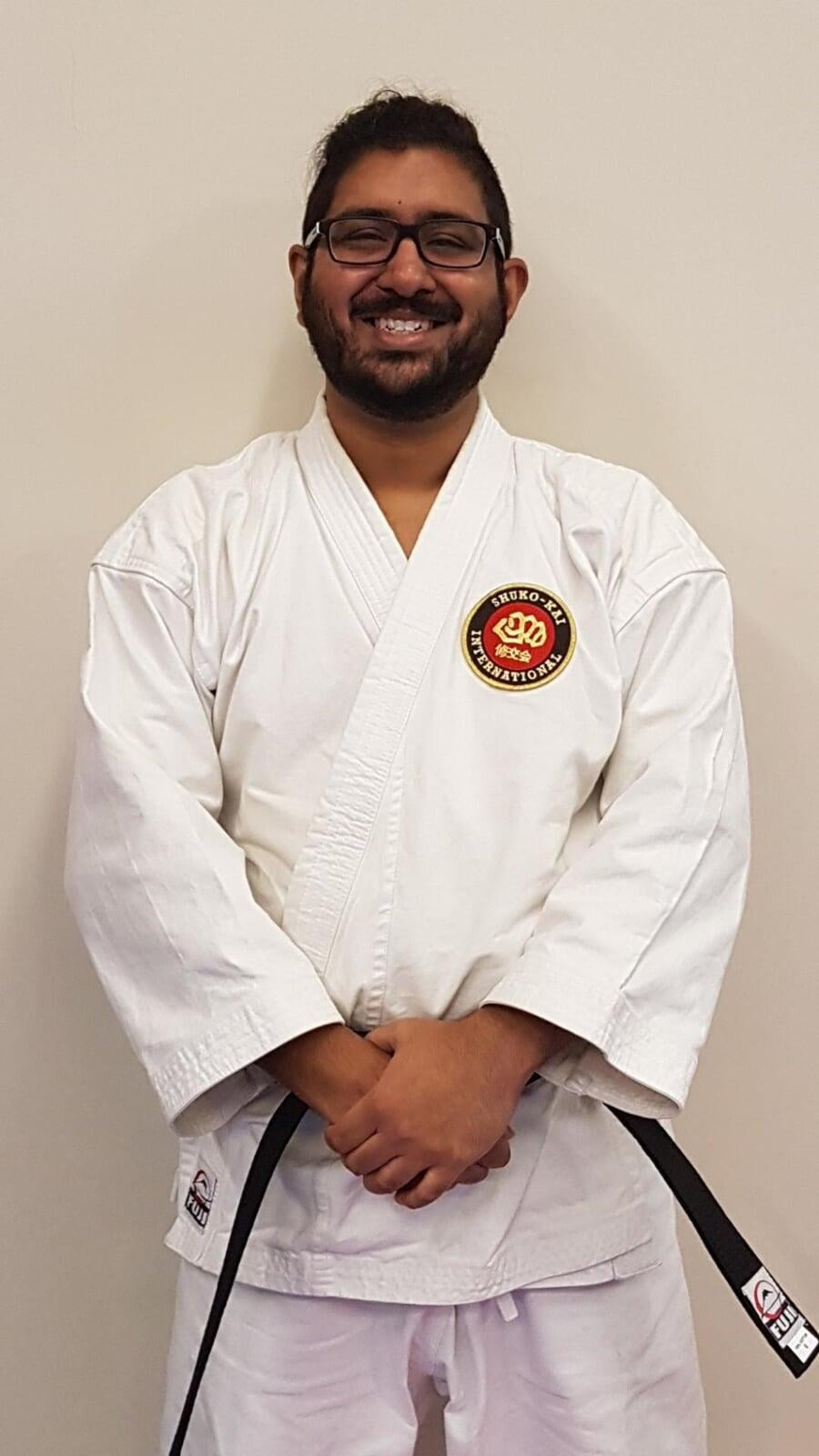 Shuborno Biswas
Sho Dan (1st) - Miyake Karate-Do Shuko-Kai

I trained in Kung Fu as a child into my teens under Sigung Bob Schneider at the Waterloo Kung Fu Academy.
In 2006, my wife Liz convinced me to start martial arts training again by joining her at a Shuko Kai class with Sensei Mike Wilson with at RIM Park.
My Karate training continued with Sensei Kam Arefi, and in 2011, 2 weeks after the birth of my daughter Lilia, I achieved the rank of Shodan-Ho.
In 2013, I am excited to join my friends and resume my Karate training under Sensei Mike Wilson. In 2020 I achieved the rank of Shodan in Miyake Karate-Do Shuko-Kai.