Welcome to

Conestoga Karate
Kinder Karate date change:
Kinder Karate will be changing to run

Tuesday

each week instead of

Monday

each week. It will continue to also run on Thursday each week. This is to remove the confusion when a holiday also falls on a Monday.
Iaido date change:
Iaido will be changing to run

Monday

each week instead of

Tuesday

each week.
Black Belt Club date change:
Black Belt Club is a special program for competitive students to learn the rules of competition and practice under more intense tournament type conditions. Attendance in Black Belt Club does not count toward your class requirements for belt advancement. You do not need to be a black belt to attend this class, but you do need to attend and compete in the dojo supported tournaments. Black Belt Club will be changing to run

Tuesday

each week instead of

Monday

each week.
These date changes will become effective September 16th, 2019.

We offer authentic Japanese Budo training in Shito-Ryu Karate, Jujitsu, and Iaido, together called "Japanese Kobudo".
We welcome new as well as transferring students.

Ask about our conversion information package.
Please come check out a class for free, with no obligation to sign up. Check our
class calendar
and pick any appropriate class. Wear loose or stretch clothing. If you have no previous martial arts training please choose a beginner class. All ages are welcome. Pre-school and kindergarten aged children should try a Kinder Karate class.
---
The Purpose of Shuko-Kai International
The purpose of Shuko-Kai International is to strive to achieve excellent quality of training and building good relationships with other members.

This will bring us to the highest level of traditional authentic Japanese Martial Arts (Budo) through Karate-Do, Aiki-Jujitsu and Nihon-Toho Iai-Do (Japanese Swordmanship).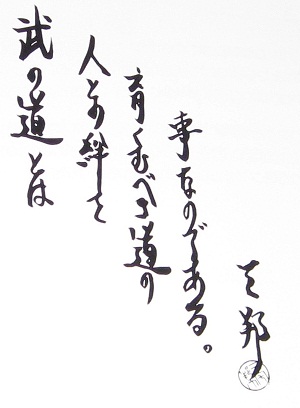 "Budo is not only a method of fighting, but also a way of strengthening the relationships between oneself and society." - Kunio Miyake
Shuko-Kai International Five Principles
1. The way of respect for oneself and others through the practice of moderation.
2. The way of genuine effort towards conquering oneself.
3. The way of harmony with oneself and others.
4. The way of mutual support.
5. The way of cultivation of excellent character.